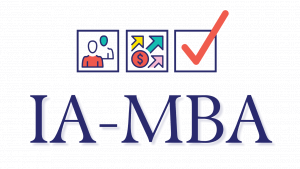 Introducing the IA-MBA:
Unlock the Foundations of Business Leadership
Join the IA-MBA program, in partnership with GoalMakers, to gain the essential knowledge and skills of a traditional MBA curriculum without leaving your day job. This innovative program offers a comprehensive understanding of organizational leadership and business finances, empowering you to immediately enhance your own skills and take your agency to the next level.
Accelerate Your Management Skills and Bottom Line Growth: Learn proven organizational leadership techniques, gain financial acumen, empower your team, identify ideal customers, streamline operations, and more. This program is designed to optimize your management capabilities and drive tangible results.
Flexible and Virtual Learning: We understand your busy schedule as a working professional. Our completely virtual program is optimized for modern learners, providing easy access to high-quality education anytime, anywhere.
Immediate Application: Everything you learn in the IA-MBA can be directly applied to your independent agency. Benefit from practical strategies that will transform your agency's goals, strategic planning, talent management, customer service, and financial performance.

Whether you are an agency owner, manager, or aspiring leader, the IA-MBA is tailored to enhance your professional knowledge and empower you to thrive. If you seek to tighten operations, learn new tools and resources, or take a significant step forward in improving your agency's performance and bottom line, this program is for you. Jump right in and apply key learnings immediately.

Sign up for the IA-MBA program today and unlock a world of opportunities:
Early-Bird Pricing: Register by July 15 to secure the best deals, with discounts of up to 50% off the program.
Flexible Registration Options: Choose between individual, paired, or team registration, with special discounts available for teams.
IA-MBA Certified: Upon completion, receive the IA-MBA Certificate. Showcase your expertise with a digital badge for LinkedIn and professional credentials.
Don't Miss Out! Preview the Course for FREE
Not quite sure if the IA-MBA is right for you? We offer a no-cost preview of the course. Get a firsthand look at the valuable content and resources that await you.