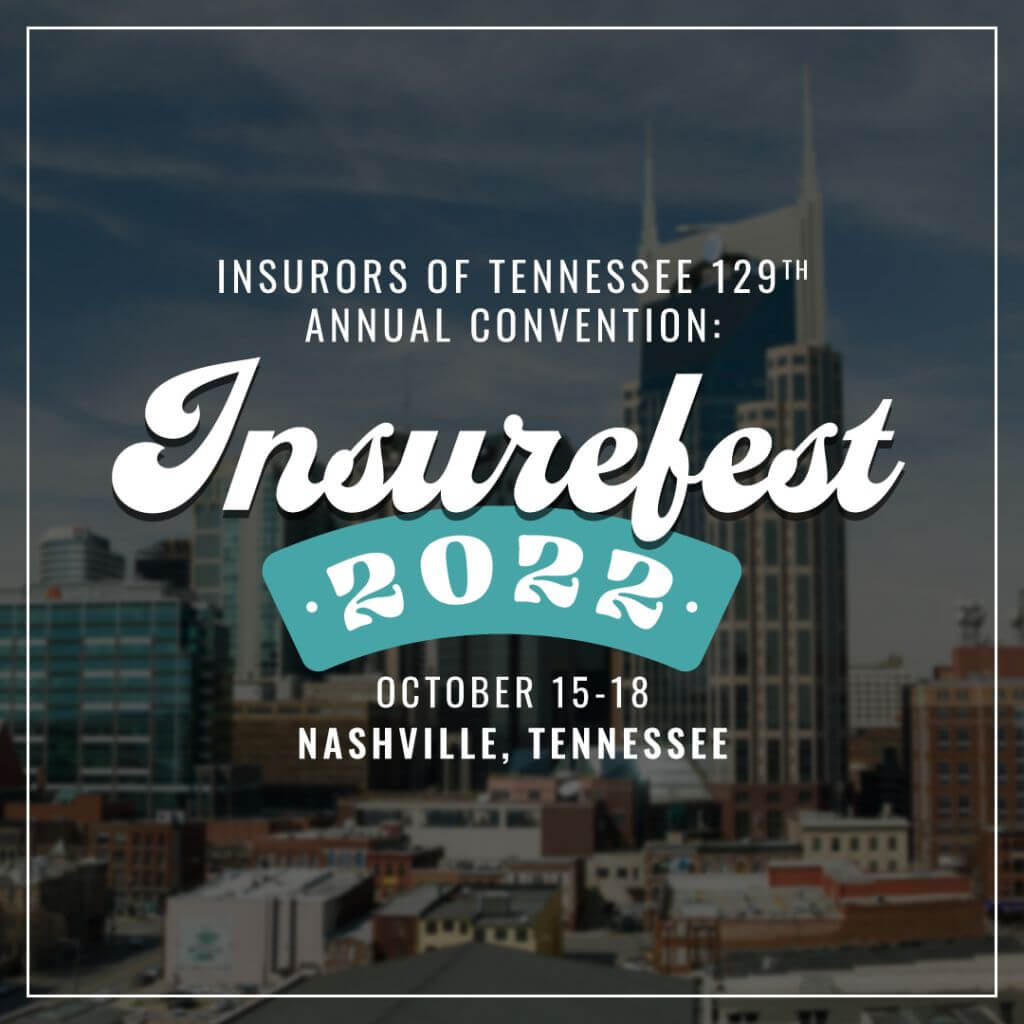 Each fall we convene to acknowledge the many successes in the insurance industry in Tennessee. This 'crown jewel' of our events features many enjoyable activities and engagements within our association. We strive to host a quality trade show for our carriers and vendors to exhibit their new products to our agency members. Along with our trade show, we host speaker sessions, golf outings, clay shoots, tours, CE opportunities, social hours, football parties, live music, and our longstanding association breakfast where we recognize the agents and company reps who are making tremendous impacts in Insurors of Tennessee!
JW Marriott Downtown
Schedule of Events
all times Central
Meeting Rooms in italics
Saturday, October 15th
6:00pm - 8:00pm - Football Watching Party - Belle Meade 1 & 2
Join us for a welcoming night of football and fellowship as we kickoff our Annual Convention! Wear your schools colors to show your support!
Sunday, October 16th
8:30am - 11:00am - Board of Directors Meeting - Bristol
11:00am - 5:00pm - Registration Open - Griffin Ballroom Hallway
11:30am - 12:30pm - Past Presidents Luncheon by invitation only - Brentwood
12:00pm - 1:00pm - Partner Recognition Lunch by invitation only - Arlington
1:00pm - 5:00pm - Trade Show Day 1 - Griffin Ballroom
2:00pm - 3:00pm - Agent General Session - Belle Meade 1 & 2
3:00pm - 4:00pm - WINS: Women in Insurance Networking Session - Emory
4:00pm - 5:00pm - Young Agents Networking Session - Arlington
6:00pm - 9:00pm - Opening Night Party at TopGolf Dinner and transportation provided
Monday, October 17th
8:00am - 12:00pm - Trade Show Day 2 breakfast provided - Griffin Ballroom
12:00pm - 6:00pm - Afternoon Activities:
- 12:00pm - 4:00pm Clay Shoot* at Nashville Gun Club  lunch provided onsite
- 12:00pm - 5:00pm Golf Tournament* at Tennessee Grasslands Fairvue Course lunch provided onsite
- 1:00pm - 4:00pm CE & Spouses/Guests Event* and Museum Tour at the Tennessee State Museum presented by Martin & Zerfoss and Chubb lunch provided onsite
*All activities require an additional fee 
6:00pm - Company Night dinner on your own
9:00pm - Monday Night Party at The Valentine on Broadway registration required
Tuesday, October 18th
8:00am - 10:00am - Association Day Breakfast & Business Meeting - Griffin Ballroom
10:00am - 10:30am - 2023 Board of Directors Portraits by invitation only
10:30am - End of Convention